Saturday, December 1st 2012, was the day of the biopsy.  Rebecca calls the family to let them know the surgeon moved up the time of biopsy.  Dustin's  parents and Dillon (his brother) race to the hospital to get there before 5am. Rebecca's parents get up and start to get baby Michael ready.  Dustin's family helps him get ready and give moral support.  Rebecca and Dillon help him clean up since it was hard to not get the IVs wet.  The nurses come to get Dustin to take him up to the Operating Room, but we ask them to delay a bit till baby Michael gets there.  The one nurse's shift wass over, but he stayed because he wanted to see him off to the other department.  Michael and Rebecca's parents arrive.  Dustin is extremely happy to see him before going to the OR.  It got extremely emotional. It was a fairly basic procedure, but you never know when dealing with the brain.  It was much more than just a procedure though, it could be the confirmation or dismissal of the initial prognosis.
     It is cancer.  Not just cancer, but an aggressive cancer in a very delicate section of the brain. The doctor says it is inoperable.  Everyone is hysterical and not able to speak.  Dustin was not even aware yet as he was still out from the anesthesia.   Rebecca calls Father Tim, who comes in.  The family begins to call back everyone who has been checking in.  The doctors don't tell Dustin, so Father Tim and Rebecca tell him, but because of the anesthesia he forgets and they have to retell him later.  They do not have a room available for him yet so he is in a common area and we were only allowed to visit with him in small numbers when no other patients were around.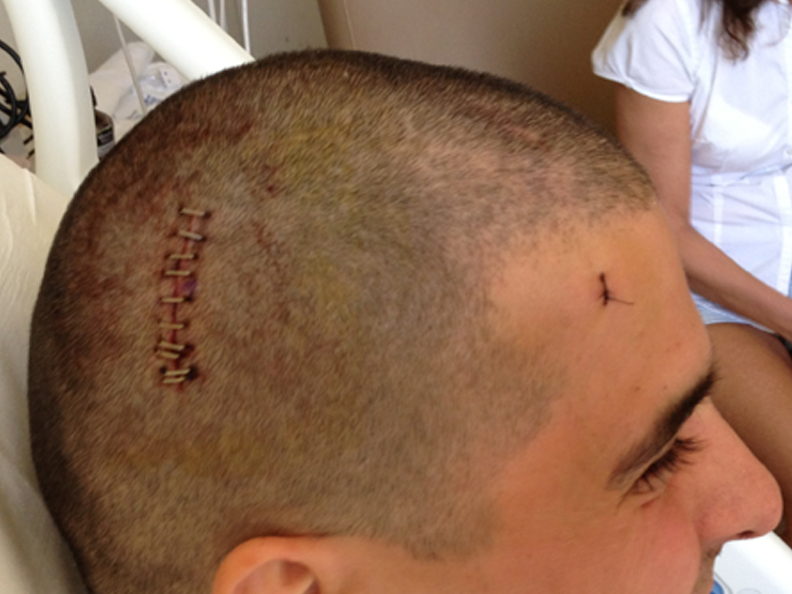 He definitely still had his sense of humor despite everything.  He had requested them to shave his entire head, not just the location of the biopsy.  They said it was not a typical request and they must not have been joking because there were cuts and nicks everywhere as well as large patches that they missed.  After his surgery, when he was still coming out of the anesthesia, I said to him "they sure aren't barbers." He turns to the nurse and says "I hope you don't charge my insurance 300 plus dollars for this botched haircut." She laughs and says she's not sure how much it is.  He responds laughing "If it's over $300, I'll contest it." Despite all he is going through, he's definitely been able to keep his faith, love, and sense of humor. He's the strongest person I know.