Dustin was experiencing some numbness in his left leg and left hand, dizziness, and disorientation.  He fell over while sitting at work.  He felt the numbness earlier in the week as well. Dustin and Rebecca both thought it was just fatigue and over exercising from all of the running.  When he fell at work, they knew it was time to go to the Emergency Room.  They still thought it was just fatigue or at the very worst the numbness would be from some form of diabetes.  They were wrong…
The Emergency Room did a series of tests including MRIs and CAT scans.  At first they did a low quality, quick scan in which they saw the masses.  From there they went and redid the test at a much higher resolution and more thorough scan with more sections being taken.  The neurosurgeon there completely downplayed the issue.  She said it was probably just an infection and they should immediately do a biopsy and try to remove it.  At this point Dustin and Rebecca called their family for advice.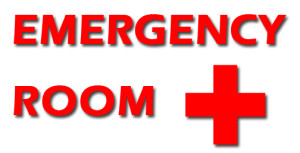 Things didn't add up. If it was just an infection and they said it could be treated with medication, why were they pressing for them to do surgery so quickly the very same day they were admitted? Dustin and Rebecca pulled another doctor aside and asked him what was really happening. He went against his boss and said there was a small chance it was an infection, but it was highly unlikely.  It was almost definitely cancer.  There was approximately a 1″ mass along with 3 smaller ones near by, but not touching each other.  This raised a red flag for him because typically tumors are by themselves or completely spread out.  It was in a very delicate spot of the brain.  He admitted it was not his area of expertise though, but knew it was not a merely a simple infection.  They approached the female neurosurgeon and she said she just likes to keep a positive approach and keep patients' optimistic…  Patients don't just need optimism, they need to know the truth so they can make their own informed decisions.  It was time to change hospitals.