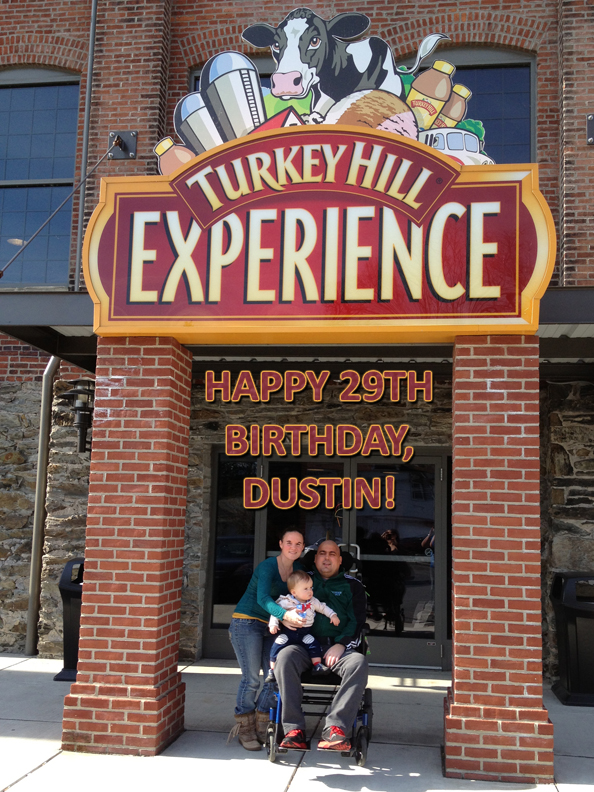 Happy 29th Birthday, Dustin!
You are truly an amazing person and have been such an inspiration to everyone. You've been an inspiration and guiding force for me, not just now, but my entire life. Ever since we were little you served as a moral compass and always pushed me to excel. You always make people around you want to do better and become a better person.  You've touched and will continue to touch so many people's lives in a positive way that is impossible to count. You're an amazing person, Dustin, and I couldn't ask for a better brother.  Love you. Happy 29th birthday, Dustin!
For part of Dustin's birthday celebration, we went to Turkey Hill Experience. It was a neat, little experience that went over the local Turkey Hill's history, growth, and how they make their ice creams and teas.  The real reason Dustin wanted to go was because there was unlimited ice cream! We had a bunch of different flavors and their 11 month (almost a year!) son, Michael definitely enjoyed it as well.  We also went to the Conewago Inn on Sunday, where Dustin got a 16oz. Delmonico steak with the largest crab cake I've ever seen. Unfortunately, Dustin also had to have radiation today, along with chemotherapy.  All in all, Dustin had a good birthday celebration and will continue the celebration tonight!
Happy birthday, Dustin! We love you!