On January 2nd, Dustin had his surgery to remove as much of the cancerous tumors as possible. His parents, Regina Krout and Keith Rhodes, his brother Dillon, his wife Rebecca were all at the hospital to support him.  Rebecca's parents brought Michael, their now 9 month old son as well.  Luckily the nurses worked with us to let him see Michael the night before. Surgery was completed by the world renowned Dr. Allan H. Friedman, Chief of Neurosurgery at Duke Hospital and his expert team.  Out of the 4 tumors, one was much riskier than the others because it was near the motor strip on the right side, which controls your body's movement on the left side.  Dustin had to be awake for part of the surgery because of this.  The doctor had to continually stimulate parts of the brain and watch for movement to determine how close they could go. Apparently Dustin was quite talkative during the surgery.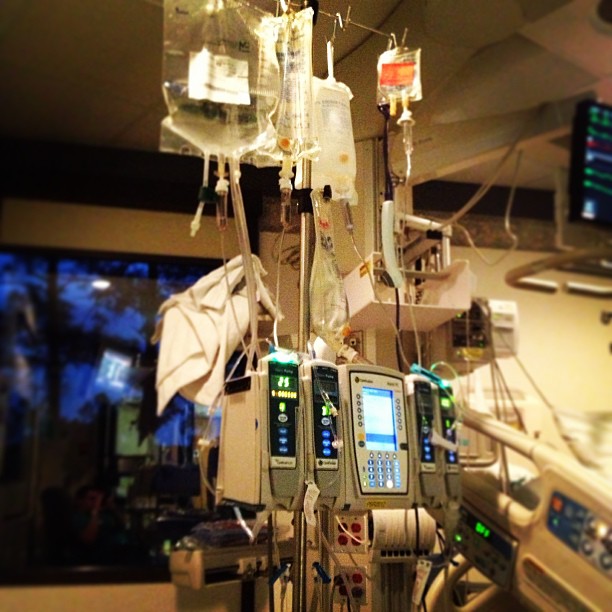 Surgery was extremely successful, much more than even Dr. Friedman expected.  After reviewing the MRI following surgery, he confirmed he removed 90% of the tumors. After surgery he was taken to the Neurosurgery Intensive Care Unit (ICU).  Unfortunately they couldn't give him too much for pain because that would sedate him and staying alert is vital to his recovery.  After trauma such as surgery, your brain swells and can make you lethargic. So they didn't want to give him much medication that could make him tired because it is hard to distinguish which is from the medicine and which is from the swelling.  As you can imagine, Dustin was in a lot of pain.  At first he was doing very well, then they moved him out of the ICU.  He became very lethargic though, so they did a CT scan, which showed severe swelling, which led him back to the ICU. Luckily, the ICU nurses have truly been amazing so far. Thank you Mike, John, Sarah, Lucy, and anyone else we might have missed!
They began to give him a new medicine, which was helping the swelling for a while, but eventually the swelling was occurring faster than the medicine could help. The swelling was so severe that he wasn't really waking up so they had to drill another hole in his skull and insert a drain to remove some of the fluid, as well as insert a pressure gauge to be able to better monitor it.  Luckily, the drain has been working tremendously well in conjunction to the medication.  He's been much more awake and talking more.  He of course is still tired and quite a bit disoriented.  A lot has happened in the past few days and the situation is constantly changing.  Please bear with us as we will do our best to keep updating as best we can. Our main concern right now is to be Dustin's immediate support while taking care of ourselves so we can be here for him. Keep the prayers coming!