A lot has happened since the last update on the website. We try to keep the Dustin Rhodes – The Fight Against Brain Cancer  Facebook Page more up to date since it is easier to post while mobile.  Since about mid May, Dustin has been out of his wheelchair!  At first he was doing smaller walks and more exhausted, but am proud to say he isn't really using it at all now.  He's walking on his own. It's a determined, tiring process, but he's getting better every day.  He can control his left arm and hand decently with a concentrated effort. When he walks he tends to bring it up and hold his left hand in a fist. He's working on trying to swing it in a more natural motion, which should ideally help with his balance as he walks.
Dustin's chemo treatment (Temodar) has been taking a major toll on him though and it has taken all of his appetite and leaves him with little taste.  It gives him extreme nausea and makes him vomit. It has made him eat little to nothing and he lost about 20 pounds in only a few weeks.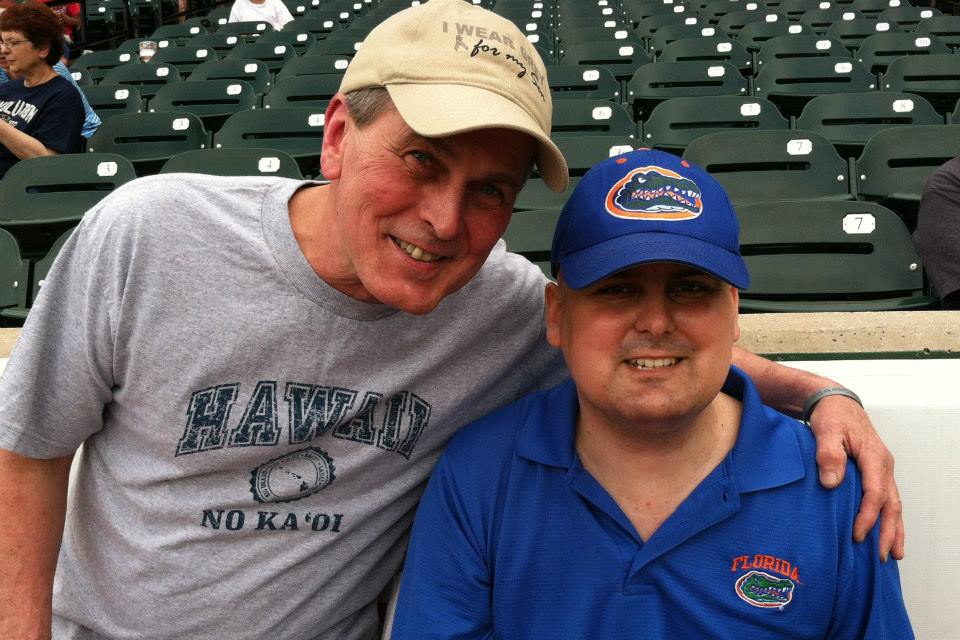 Despite that, Dustin has been a trooper and has had some fun moments this past month.  June 2nd was Cancer Survivor Day at the York Revolution – Minor League Baseball stadium.  Dustin, Rebecca, Michael, and both their families and extended families came.  It was a lot of fun.  Dustin actually got to go on the field and throw the first pitch of the game! Dustin has always been a huge baseball fan and he truly enjoyed it.  After about the 6 inning though, Dustin was exhausted and uncomfortable from sitting so long. He had a lot of physical activity that day walking the stadium, on the field with the first pitch, and the most impressive walking all of those stadium steps.  I was so proud of him.  Despite the nausea, Dustin and Rebecca managed to make it down to Virginia for a mini-vacation at a family member's timeshare before having to return for Dustin's Avastin treatment. They enjoyed their little getaway, but Dustin was sick for the majority of it.
Thank you all for your continued prayers, encouragement, and support. It means a lot to us!