As we head to Duke tomorrow, we continue to be upbeat, buoyed and sustained by the steady chorus of prayers. Your prayers cannot be overestimated! We enjoy the communications, and will try to update As realistically as possible; however, please be patient with us as it will be tough!
For those who have some knowledge of the Catholic faith, there is a process called canonization. To make it simple, it's a process for a person to become a saint. I'm vastly simplifying things. As Catholics, we pray for a miracle through the person in the process of becoming sanctified, and that person can possibly become a saint.
A close friend of mine, Father Jim Rafferty, who knew me well, recommended Blessed Pier Giorgio Frassati to pray to him for a miracle. You can see a quick glimpse of his life here. I read a short bio book on his life, and like most books about these people, you see amazing stories showing how to live out their faith, much better than I dare can.
Because choosing a person to pray to is very personal, everyone is different, but I do pray to Pier Giorgio to intercede, and we would love your prayers, too!
We believe in miracles and the power of prayers. We love you all, and Blessed Pier Giorgio Frassati, please intercede for us if it be God's Will!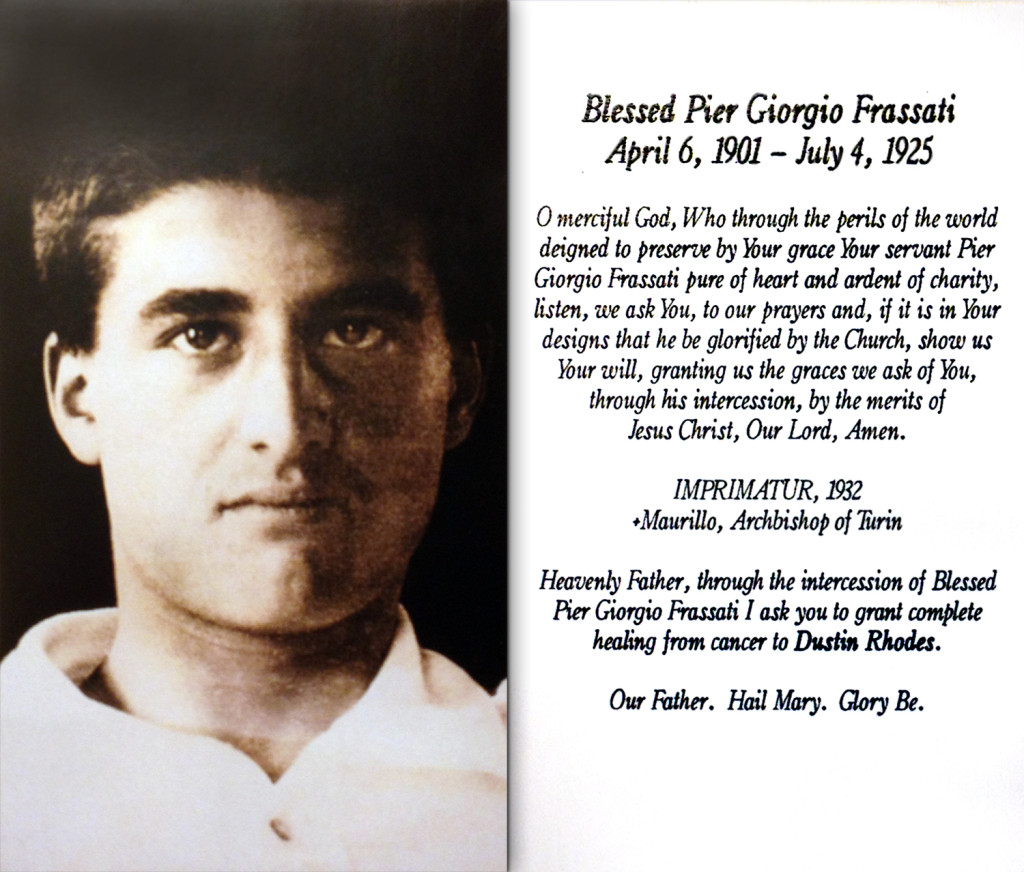 'O merciful God,
Who through the perils of the world
deigned to preserve by Your grace
Your servant Pier Giorgio Frassati
pure of heart and ardent of charity,
listen, we ask You, to our prayers and,
if it is in Your designs that he be glorified by the Church,
show us Your will,
granting us the graces we ask of You,
through his intercession,
by the merits of Jesus Christ, Our Lord, Amen.'
IMPRIMATUR, 1932
+Maurillo, Archbishop of Turin
Heavenly Father, through the intercession of Blessed
Pier Giorgio Frassati I ask you to grant complete
healing from cancer to Dustin Rhodes.
______________________
______________________
Our Father, Who art in heaven
Hallowed be Thy Name;
Thy kingdom come,
Thy will be done,
on earth as it is in heaven.
Give us this day our daily bread,
and forgive us our trespasses,
as we forgive those who trespass against us;
and lead us not into temptation,
but deliver us from evil.
Amen.
______________________
Hail Mary, full of grace.
Our Lord is with thee.
Blessed art thou among women,
and blessed is the fruit of thy womb,
Jesus.
Holy Mary, Mother of God,
pray for us sinners,
now and at the hour of our death.
Amen.
______________________
Glory be to the Father and to
the Son and to the Holy Spirit,
as it was in the beginning, is now
and ever shall be, world without end.
Amen.