A lot has happened in the last month.  Dustin and Rebecca returned to Pennsylvania and settled in with her parents since the one bedroom and bathroom is fairly handicap accessible (although it still has its challenges).  After just a few days Dustin fell out of his wheelchair and was taken to the ER just to be safe even though he appeared fine.  They did a CT scan and all appeared fine.  They wanted to keep him for a few days for observation though. He started to have severe headaches (not related to the fall), but because of swelling from the tumors. They greatly increased the steroids to help combat that, which then greatly increased his appetite (it makes you crave sugar and makes you constantly hungry in general), increased anxiety, prevented him from sleeping, mood swings, and not always lucid. There were some great days and some not so great.
The following week, Dustin was to begin his treatment of chemotherapy, radiation, and avastin. Dustin was already a bit claustrophobic , but the steroids increased his anxiety even more to the point where they could not calm him down enough to do treatment for three days in a row…  In all honestly, even someone who is not inherently claustrophobic would probably feel very anxious with the mask you must wear.  It is custom formed to the individual's head/body to ensure the radiation is getting to the precise location they need each and every time.  You cannot move at all in it and it is bolted to the table.  You can view an image of it here (this is not Dustin in this photo): Radiation Mask . They kept trying different medicine to calm him down and finally found the right mixture on the fourth day. Radiation and the other treatments were now underway for the next 6 weeks before he'd have a break and then the doctors would review the next steps. For chemotherapy, he takes Temador everyday. Radiation is 5 days per week. Every two weeks, he receives a 1 hour IV of Avastin, which essentially helps prevent the growth of new blood vessels that would feed the tumors, essentially trying to starve the tumors, slow the growth and hopefully shrink.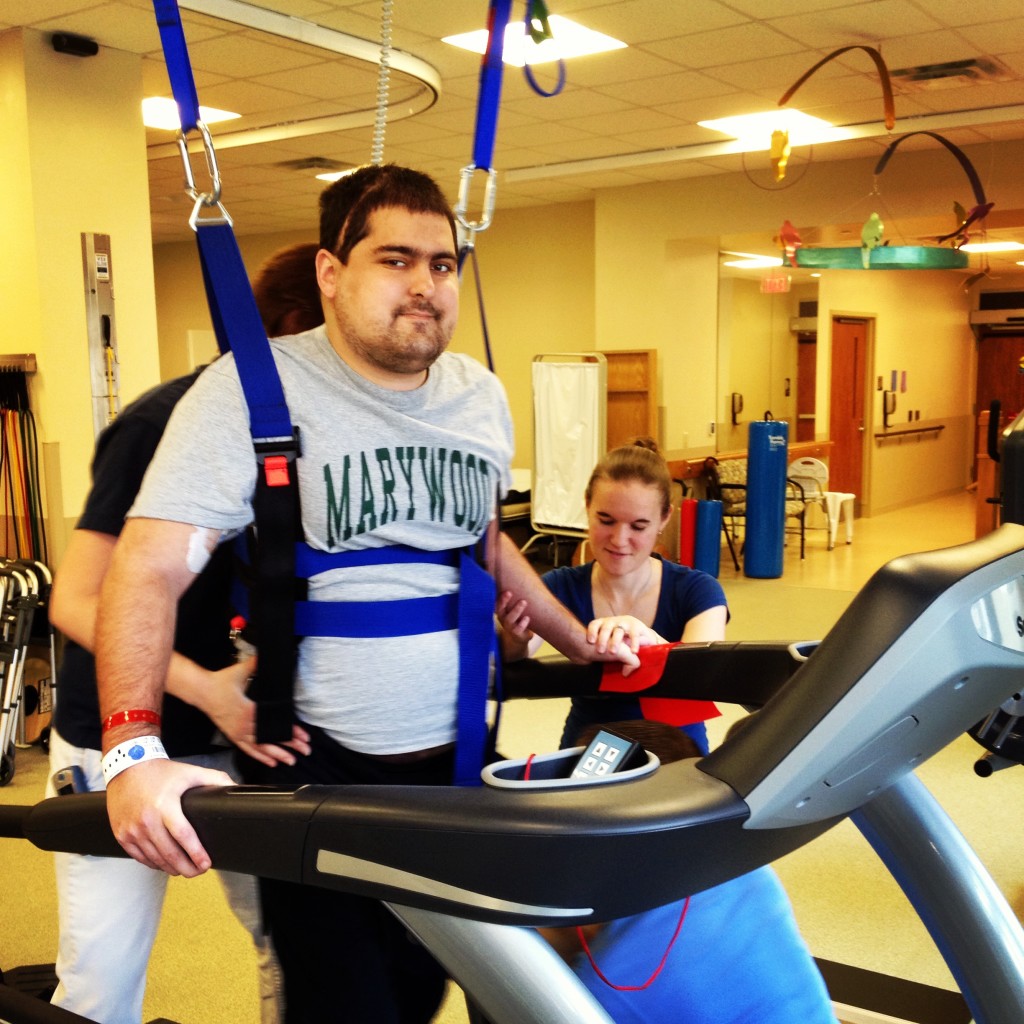 After two weeks in the regular hospital, the insurance company finally approved to have Dustin transferred to a rehabilitation facility. Typically it is only done after treatment, not during the same time.  Dustin made some amazing progress during his two weeks there with 4 hours of rehab on most days.  They had a harness and lift, which helped minimize the body weight he was placing on his legs so he could focus more on the actual movement and control of his left leg. They had him doing countless exercises throughout the day.   He made amazing progress and it was truly inspiring.  After two weeks, the rehab facility and insurance felt Dustin was functional enough where he no longer required to stay there 24/7  and would be going home.  He will continue with rehab, but it will be three times per week as an outpatient.   They are having a custom wheelchair built for him, which will allow him to be much more comfortable and hopefully help relieve his back pain.  Unfortunately that can take up to almost 8 weeks and is much larger than a typical one, much heavier, and not collapsible to fit in a car. We may have to eventually reconsider our car situation, which could be extremely costly.  In the meanwhile we have a temporary, collapsible chair to take him to appointments, but it makes his back extremely sore even after short trips.
Dustin has been making great progress and we're happy that the doctors decided to lower his steroids by about 40%.  He is much more coherent, sleeping better, less mood swings, and less hungry (but still more than normal). All good things! We ordered him a hospital bed for the house and he is now home! The hospital bed helps him be a bit more comfortable, shift positions, and has grab bars to help him move around. He is a trooper and truly inspiring.  Also excited that his 29th birthday is quickly coming up on March 11th!